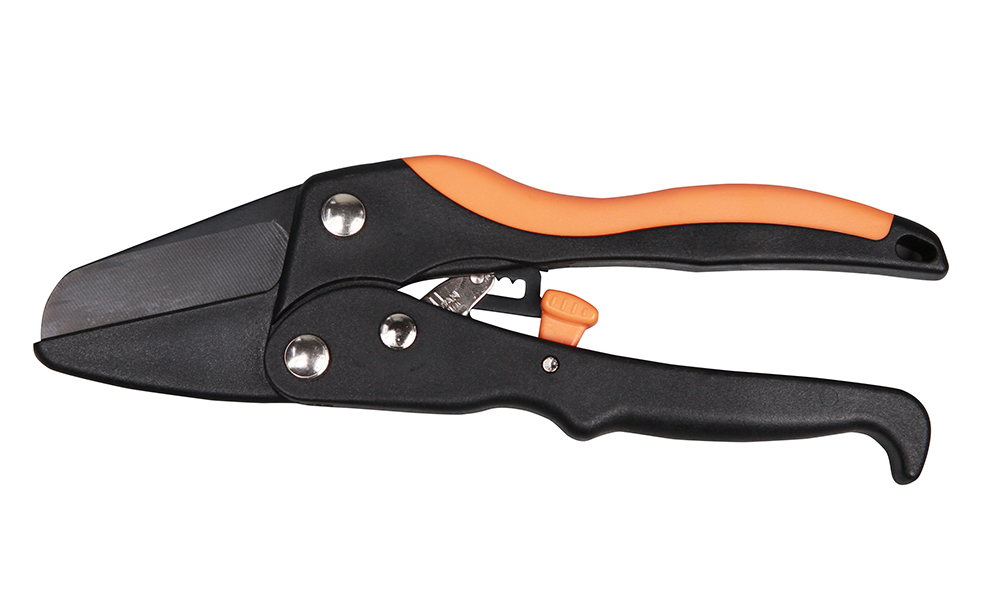 Ratchet Pruning Shears can be used for multiple purposes. The product has the characteristics of durability, sharp cutting edge, and streamlined comfortable grip. Ratchet Pruning shears total length of 205mm and a cutting capacity of 20mm. Yi Ying company strictly selects materials, and the blade adopts SK5 high carbon steel, which has a stronger cutting ability. The handle is made of German plastic steel and plastic handle. The sharp blade is matched with an ergonomic and comfortable handle, allowing you to perform cutting work more easily and effortlessly
The upper and lower blades of Ratchet Pruners Secateurs adopt an anvil design, and the maximum cutting diameter is 20mm. The upper blade adopts a flat, hard and sharp blade, and the lower blade adopts a flat anvil design structure, which can directly cut hard deadwood or dry branches. The surface of the blade is treated with a non-stick coating to prevent the juice from sticking during pruning and make pruning more efficient. The Ratchet Pruners can perform segmented cutting action, and cut difficult branches into three sections to complete the cutting. After cutting, it can provide a clean and neat cut, which is not easy to damage the plant rhizomes.
Yi Ying expects to be able to provide customers with high-quality garden shears/tools and product customization solutions. In addition to the existing specifications, we also provide customer commissioned design (ODM) and customer commissioned OEM solutions. For service, the gardening pruning shears manufactured by Yi Ying have been exported to many countries and have been well received. If you have any gardening shears demand, please contact us!
Product Feature
◆Blades: SK5 high carbon steel blade
◆Handle: German plastic steel plastic handle
◆Surface treatment: Anti-corrosion、Non-stick coating.
◆Three-stage design of labor-saving ratchet structure
◆Made in Taiwan
Detail Information
Description
Size
Total length: 205mm / Cutting Capacity: 20mm
Upper Blade
High carbon SK5 steel blade, non-stick coating
Handle
German plastic steel plastic handle
Features
3 short cuts to easy pruning, Effort saving Ratchet system
Packing
Blister card 10/60PCS, 14.5/15.5 KGS, CUFT:1.95'