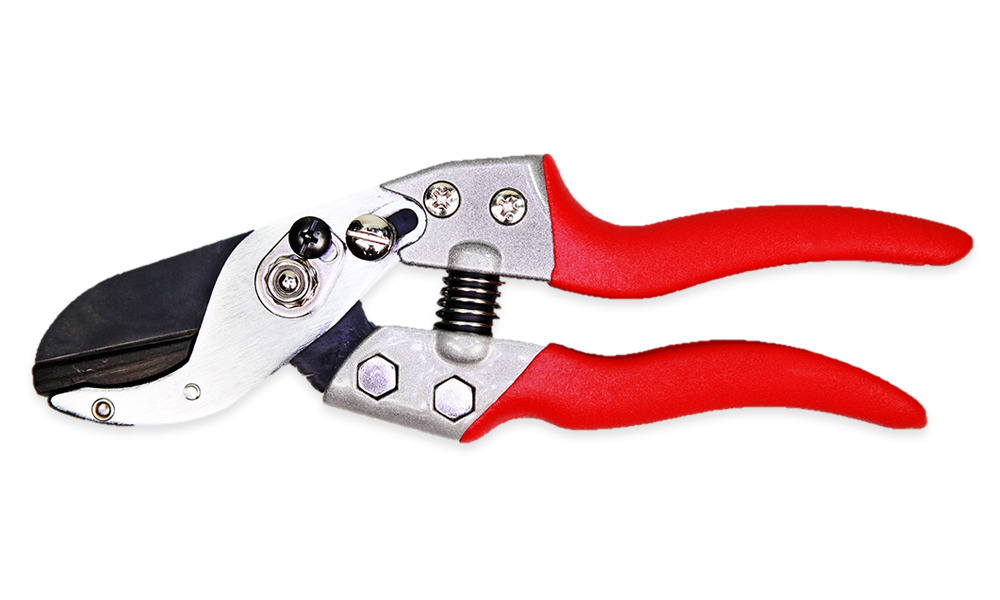 Yi Ying has more than 30 years of manufacturing experience in Gardening Pruner. The R&D team has developed Anvil Secateurs with high CP value. The blade adopts a Japan high-carbon steel blade, and the blade has an anti-rust and non-stick coating surface treatment. The product 3051 has the characteristics of high hardness, effort saving, sturdiness, and durability. The total length of this anvil pruning shear is 205mm, the maximum cutting diameter of the product is 20mm, the maximum blade opening is 35mm, and the safety lock design is attached to make the pruning shears better. It is portable and easy to store.
Anvil Pruning Shear's upper blade adopts a straight, sharp, high-hardness blade and a flat anvil-type design structure, which is suitable for pruning hard dry dead wood or branches. The blade is treated with a non-stick coating surface, so the juice is not easy to stick when trimming, which can make the cutting action easier and save time. The unique design of the eight-shaped ring anti-loosening fixed piece design prevents the screw from loosening and locking during cutting. The handle shape design conforms to the ergonomic design of the soft aluminum alloy handle, which makes it easier to realize the ideal cutting work.
The Pruning Scissors provided by Yiying has a wide range of applications, such as dead branch pruning, rough branch pruning, plant grafting, gardening pruning, orchard fruit picking, potted dead branch pruning or other high-hardness cutting.
Product Feature
◆Blade: Japan SK5 high carbon steel blade
◆Interleaved blade design
◆Replaceable blade design
◆Safety lock function, Cushion design
◆Handle material: non-slip TPR aluminum handle
◆Surface treatment: Non-stick coating
◆Unique craftsmanship eight-shaped ring anti-loosing fixed piece design
◆Place of Origin: Made in Taiwan
Detail Information
Description
Size
Total length: 205mm / Cutting Capacity: 20mm
Upper Blade
Japan High carbon SK5 steel blade, Non-stick coating
Lower Blade
Middle carbon steel & Hard chrome plating
Handle
Aluminum & Non-Slip handle
Packing
Blister card 12/72PCS, 19.5/20.5 KGS,CUFT:1.8'