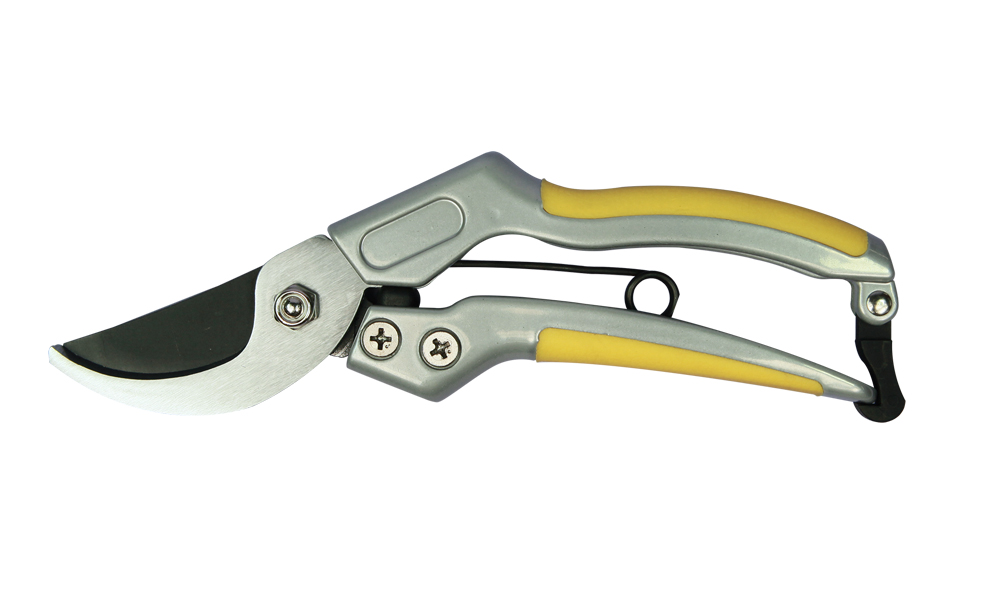 Yi Ying's product design concept is to design labor-saving, durable, and easy-to-clean pruning shears for professionals. The total length of the product is 200mm, and the cutting range is 20mm. The blades of the pruning shears are designed and provided by the Japanese SK5 high carbon steel. The shearing force is stronger. Through the surface treatment of the Non-Stick coating (Teflon coating), the shears have the characteristics of sharpness, durability, corrosion resistance, and corrosion resistance. The handle is an ergonomic non-slip aluminum handle design, which is comfortable to hold and easy to use.
Yi Ying's products are all made in Taiwan, and it has always been our goal to provide high-quality garden tools to customers. In order to ensure quality stability, all our products have strict QC control procedures. The quality control in the factory is in line with the SGS9001 inspection standard. A complete quality inspection system is provided to ensure that the quality of each batch of shipments can maintain stable consistency.
Bypass pruner is the most common pruning shear on the market. The upper blade is a sharp curved round blade. When used, the upper and lower blades will be staggered to complete the cutting action. The principle is the same as that of the scissors on the market. Mainly used for pruning live plants or rhizomes with sap. Bypass Pruner can leave a neater cut when pruning plants, reducing the damage to plants during pruning.
Product Feature
◆Blade: Japan SK5 high carbon steel blade.
◆Handle: Aluminum handles & non-slip grips.
◆Safety function: Safety lock function, cushion design
◆Surface treatment: Anti-corrosion、Non-stick coating.
◆Scimitar round mouth design
◆Made in Taiwan
Detail Information
Description
Size
Total length: 200mm / Cutting Capacity: 20mm
Upper Blade
Japan SK5 High carbon steel blade & Non-stick coating
Lower Blade
Middle carbon steel blade & Hard chrome plating
Handle
Aluminum handles with soft non-slip TPR grips
Packing
Blister card 10/60PCS, 14/15 KGS, CUFT : 1.4'